1. Manage my time better. This is my main goal and all other goals are really a subset of this goal.
2. Wake up and go to bed at regular times. I've been self employed for over six years now and waking up early and regularly is something I've struggled with as long as I can remember. Waking up late prevents me from having a very productive day and achieving my goals quicker than I otherwise would if I woke up early. Over the years I've learned a couple tricks to help me like practicing waking up, going to bed early the night before, and most of all doing it regularly since it takes about a week for your sleep schedule to adjust. Hopefully I can change that in 2014.
3. Read less 2+2/reddit. I've grown into a schedule of browsing the internet for an hour or two when I first wake up and right before I go to bed. Sometimes I read and learn interesting things, but usually I just end up reading random semi entertaining threads like If a player has a prosthetic arm that he used for holding onto the football and the arm got detached during the play, would that be considered a fumble or would the prosthetic limb still have possession for the player? In the morning it stops me from being productive, and in the evening it tends to keep me up later than I want to stay up and prevents me from being productive the next day. I don't think I'll ever kick the habit for good, but I'd like to decrease the amount of time I spend randomly browsing to focus on more productive or entertaining things.
4. Read more books. I'm somewhat embarrassed to say I only read 1.5 books last year. This is the least number I've read in a year since I was probably 12. I read American Sniper: The Autobiography of the Most Lethal Sniper in U.S. Military History
and half of What Every BODY is Saying: An Ex-FBI Agent's Guide to Speed-Reading People
Reading novels has been shown to boost brain function for days It increases your vocabulary and provides much deeper explanation on topics that you just can't get from tweets and short internet articles which takes up the majority of young people's reading sources these days. Plus at 1.5 books/year I'm getting dangerously close to becoming like Kanye West: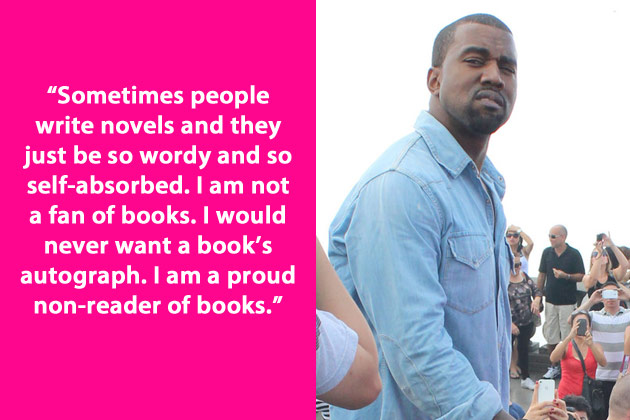 5. Exercise more. Pretty standard resolution here. Three times a week is what I'm shooting for. Maybe I will finally run that marathon this year I've been wanting to for awhile now, but we'll see.
6. Blog at least once a month. I started tweeting a bit in 2013 and it kind of replaced my urge to blog, but there's just some things you can't get out in 140 characters. I don't think 12 blogs per year is asking too much of my time.
7. Watch less TV. Spend more time reading books and working out instead.
8. Grow my businesses. Buy a house. These are pretty vague goals which are generally bad for goal making, but I'll take these more on a month to month basis. In January I'd like to focus on BitcoinRichList.com and then on poker for Australia and the Aussie millions. In February I'd like to focus more on ATMs and condo buying.
Happy new year and best of luck to you all in 2014!