So I got engaged to my long time girlfriend about a month ago. We took a week long vacation down to Sedona, Arizona and the timing seemed right. I surprised her by waking up really early one day and going on a short little hike here where I did the deed.
No I was not wearing the hoodie or glasses at the time but I was for most of the trip. I can't help that I'm vampire white. I ended up getting the ring off a great site I found through reddit, idonowidont.com If you're in the market for a ring or some jewelry I highly recommend it. You buy directly from other sellers and the site verifies everything. As a result I was able to afford a much nicer ring and spend a lot less than I otherwise would have. If you're worried about the yuck factor of it being second hand or anything I think that's just dumb, just because you buy it from a jeweler does not mean someone else never wore it. Other stops on the trip were meteor crater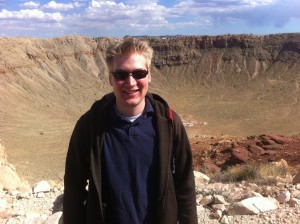 And the grand canyon. We ended up driving up from Sedona one evening to camp on the Grand Canyon South Rim so we could wake up super early the next day for our epic hike. We wanted to see/hike the whole canyon, but the camping permits in the bottom of the canyon at ghost ranch book up like six months to a year in advance and we didn't reserve early enough so we ended up doing the whole hike in one day. I'm not gonna lie it was pretty brutal. We had been hiking a fair bit out in Seattle as preparation, but nothing like this. We hiked down the South Kaibob Trail
Across the Colorado River
And back up the Bright Angel Trail
In total is was 20 miles, 4500 elevation change and 9 hours of hiking. I'm not gonna lie, the last bit was pretty brutal, but overall it was a great experience and fun for the first 75% of the hike. The rangers tell you not to do it and I wouldn't recommend it unless you're in pretty good shape and fairly experienced hiker (a couple people a year die every year from heat exhaustion, I'm sure it's much harder in June or July) but it's definitely doable and by far the best hike I've ever been on.
Overall it was a great vacation, but I'm ready to get back to work. I'm heading out to Vegas tomorrow and I'll be there until June 10th. If anyone wants to meet up just contact me I'll be staying at the Gold Coast. The first event I'm playing is the $1500 stud which starts 5pm tomorrow.
I'm sure my game is more than a little rusty, but I think I'll be fine. I've been playing a bit of play money on Stars as it's basically my only option if I don't want to take a whole day to go play live. I've managed to get my account up to 100k chips starting with 1k about a week ago. I think that goes for something like 15 cents on the open market. Oh yea, probably earning like 1 cent/hour. It's okay, but not exactly the same as real money games. The most tilting thing about it is there is no hand replayer so it's really hard to go back and look at or analyze hands to look at equities and there's no loading them into HoldemManager. Oh well, gotta make do. Good luck at the tables and I hope everyone has a great series!